Our repertoire is made up of Halloween songs and spooky parodies ("scarodies") of familiar holiday carols. The lyrics and arrangements of our scarodies are original; you won't hear them anywhere else!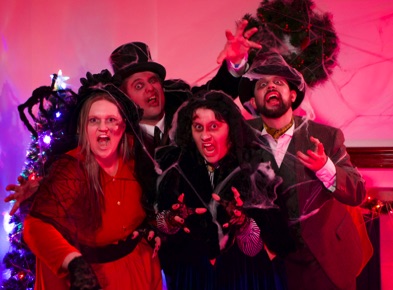 The Addams Family theme
Bring A Torch (When You Come for The Monster)
Creep (Radiohead)
Creepy Doll (Jonathan Coulton)
Cruella DeVille
Dead Man's Party (Oingo Boingo)
Deck the Hall(oween)
Down In The Graveyard (scarody of "Up on the Housetop")
Flying Purple People Eater
The Ghostbusters Theme
Here We Come A'Scaroling
I Hear The Ghouls On Halloween (scarody of "I Heard The Bells On Christmas Day")
I Put A Spell On You
Jingle Bones
Little Shop Of Horrors
Kidnap The Sandy Claws (from The Nightmare Before Christmas)
The Monster Mash
Re: Your Brains (Jonathan Coulton)
Rot With You (Scarody of Michael Jackson's "Rock With You")
There Was A Scary Gentleman (Scarody of "God Rest You Merry Gentlemen")
This is Halloween (from The Nightmare Before Christmas)
Michael Jackson's Thriller
You're A Mean One, Mister Grinch
O Scary Tree
Santa Claws is Coming for You
Scarol of The Bells
Spooky
We Four Souls (scarody of "We Three Kings")
We Wish You A Scary Christmas
What's This? (from the Nightmare Before Christmas)
Zombie Jamboree
Zombie Love Song
Zat You, Santa Claws?